This was my second time watching the live-action Kim Possible adaptation. I'll admit that I'm not a huge fan of action movies, so the suspenseful intro is not my favorite part. However, there's plenty of personal growth in this film to satisfy the character aspects I am interested in. It's also fun to see how the casting department interprets beloved characters in human form. Sadie Stanley and Sean Giambrone were the perfect Kim and Ron, Issac Ryan Brown makes a great Wade, and everyone else is a good fit for their part, from Drakken and Shego to the Possible family and Bonnie the bully. I would have liked to have seen Raven's character, Monique, in this story. But if we'd had Monique, then maybe it wouldn't have made as much sense for Kim and Ron to befriend Athena (Ciara Riley Wilson). Athena comes into Kim's life on everyone's first day of high school. Kim and Ron find her completely distraught, hair disheveled, school papers everywhere. Of course, Kim befriends Athena. But she goes further than that, giving Athena a major confidence boost to the point where Athena has "outkimmed Kim."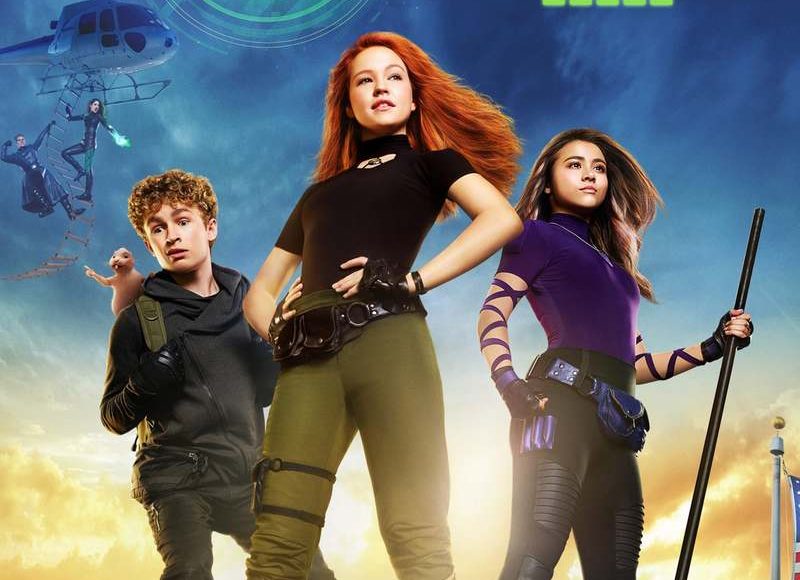 Everything Kim Possible is good at, Athena does better. Soccer, school, even crime fighting. Kim is deeply affected by Athena's makeover from the moment she emerges in her Kim-like superhero garb and new hairdo. Even Poppy Blu, the pop star played by Christy Carlson Romano, thinks Athena is fabulous and tells Kim to watch out for her.
Kim doesn't know how to handle not being the best at something. Not only is she historically the best, but as Drakken says in his evil voice, she has a "spark." I think we all have a spark, but Kim is one of those people who always seems optimistic, unruffled, and pretty perfect. But even those people have moments of doubt and imperfection. We see what happens when Kim deals with the idea that someone else has her very essence. With help from her Nana, Kim trains even harder and tries to be prepared to prove her excellence, but she still stumbles. It turns out that Drakken and Shego created Athena. She's a "cybertronic humanoid" meant to steal everything that makes Kim tick, and then transfer it to Drakken. Of course, all this is revealed after the Possible women step in to help Kim and Ron. Kim decides that she wants to protect Athena, whom she still calls a friend after everything that has happened. Rufus actually helps save the day, but we are led to believe that Athena gets destroyed when the evil warehouse comes crashing down. Athena survives, the Possibles rebuild her and remove any villainous qualities, and she and Kim (and Ron) decide to conquer high school together.
I'm glad that this film still utilizes Christina Milian's excellent theme song, and that it delivers a creative representation of a beloved set of characters. It's also pretty cute to see "Villainstagram" in use throughout the film. If you like the original Kim Possible, know that this will be different, obviously. But it's worth checking out.
_________________________________________________________________________________________
In April, I watched the original Kim Possible DCOM, So the Drama. I probably only saw this once or twice growing up, but it was fun to revisit because of the relationship progression between Kim and Ron. Kim ultimately saves the world from Drakken, yet again. Amid the typical crime-fighting, she gets cozy with a guy named Eric (voiced by Raviv Ullman). Even though Ron introduced them, he becomes jealous and feels left out. By the time prom rolls around, we see Kim and Eric tearing up the dance floor to Jesse McCartney's "Get Your Shine On."
Ron is instrumental in saving the day. He has Wade put him through to complain about a Bueno Nacho quality issue on the phone, only to be connected with Drakken, who uses Dr. Possible's technology to create an army of evil Diablo toys. Ron alerts Kim, they get help from her dad, and the crisis is averted, after a battle against Shego and the realization that Kim's date was a villainous drone creation. Rufus is a huge help, too, of course. Just one problem left: Kim needs a new date for the rest of prom night. Ron is there for her, and Kim finally starts to explore her feelings for him a little more. Christy Carlson Romano sings "Could It Be" as Kim and Ron share a kiss on the dance floor. Bonnie announces that they are dating, and Monique and all the others cheer them on. Classic ending, and interesting to see an animated DCOM for a change!
I noticed that in the 2005 movie, the villains create a fake romantic interest for Kim, whereas in the 2019 live-action take, they design a fake best friend for her. In the animated movie, Ron is the one who gets left out. In the live-action film, Kim is on the outside when her new BFF is too cool. I'd imagine many of us have felt excluded by a hip new friend, or perhaps we've been hurt when a crush passes over us for someone else. Both of those things happened to me growing up, so I think it's nice that each of the KP movies tackled such issues, albeit in unique, sci-fi ways. The movie was written by creators Bob Schooley and Mark McCorkle, directed by Steve Loter.