A couple weeks ago, I let the topic of vacation DCOMs float around in my head. Mostly summer ones, with a bit of spring break thrown in there. Here's my graphic where I spliced together some images that truly make me happy:
Destination DCOM, if you will. Some of these lucky ducks got to vacation more than once–the Lawrence bros, The Cheetah Girls, the campers at Camp Rock. Others only got one shot at summer fun. Most of the films in the collage have a decidedly cheery temperament. Singing campfire songs by the fire, dancing on the beach, surfing and swimming.
Even the sunny spectacle of High School Musical 2 has a dose of drama, though. "Gotta Go My Own Way" is an epic moment of teen angst that always has me singing along. (I know some of you played "Disney Sing-It" on your Wii consoles.) And the two Cheetah Girls sequels? Plenty of drama between the jet-setting Cheetah sisters on their trips to Barcelona and India. You'll notice A Ring of Endless Light and Buffalo Dreams on the right. Both have drama for different reasons (fitting in is tough sometimes), but I get so sad when the grandfather passes away in A Ring of Endless Light. It's pretty special that Mischa Barton's character, Vicky, can communicate with dolphins. Also, imagine having to choose between Ryan Merriman and Jared Padalecki for a boyfriend!
So back to that title. Which of these movies would I want to live in? As funny as it would be, I wouldn't want to be stranded with the Stevens family, so The Even Stevens Movie is out. I really need to rewatch the Teen Beach series, but I'm not sure I'd want to jump into a movie that's also jumping into an old movie…too meta. Rip Girls would be a beautiful, sometimes melancholy, experience in Hawaii. I didn't include Johnny Tsunami because of all the snow and the school setting, but the sequel is up there. I'm not sure I'd want to be a permanent resident of Johnny Kapahala: Back on Board, even though I liked the film. And I enjoy Wizards, but I don't have a hefty sentimental attachment to the movie, honestly. I also haven't quite decided how I feel about living in a magical realm.
If I'm not working on the ranch or jumping ship with the Lawrence brothers, if I'm not singing "This is Me" with Demi Lovato, if I'm not strutting like I mean it with The Cheetah Girls, then what I am doing?
Starstruck. This 2010 DCOM is the vacation I could (temporarily) live in. It's a spring break film, not summer, but I love it. I might be influenced by the fact that the family lives in Michigan (so do I) and goes on a California vacation (same!).
Sara and Jessica Olson are the oil and vinegar sisters of this movie. Sarah is obsessed with Christopher Wilde (Sterling Knight) while Jessica can't stand him. The fam goes to visit Grandma in Hollywood, and the first night of the trip brings Jessica face to face with that pesky Christopher Wilde. We get this bop:
"There's somethin' about the sunshine baby, I'm seeing you in a whole new light!"
And Sterling Knight and Danielle Campbell are so fun to watch as the leads. If you haven't ever seen Starstruck, I recommend it. I think it's fun to see how Hollywood portrays itself. A few clicks on IMDb will tell you that lots of DCOMs have been filmed in other countries, like Canada. It's fun to see a California DCOM once in awhile, I say. Being a tourist for the day, even vicariously through a movie, appeals to me. We get to see the sights of Hollywood, Malibu, and Venice Beach. Grandma's car is destroyed when it sinks into a pool of mud, and the LA trip is spoiled when Christopher pretends Jessica means nothing to him. But other than that, this is a pretty good vacation. I've written about the Hollywood Walk of Fame. I only love the beach more and more as I get older. Seeing stars sounds like a blast. Looks like Starstruck is the place for me.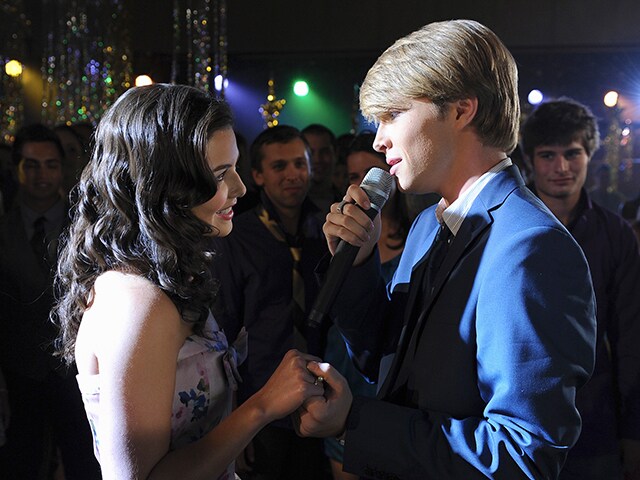 If you got to live in a vacation DCOM for any length of time, which one would it be?